My Mental Health Journey: beating anxiety & depression with NLP
Series 3 – Episode 1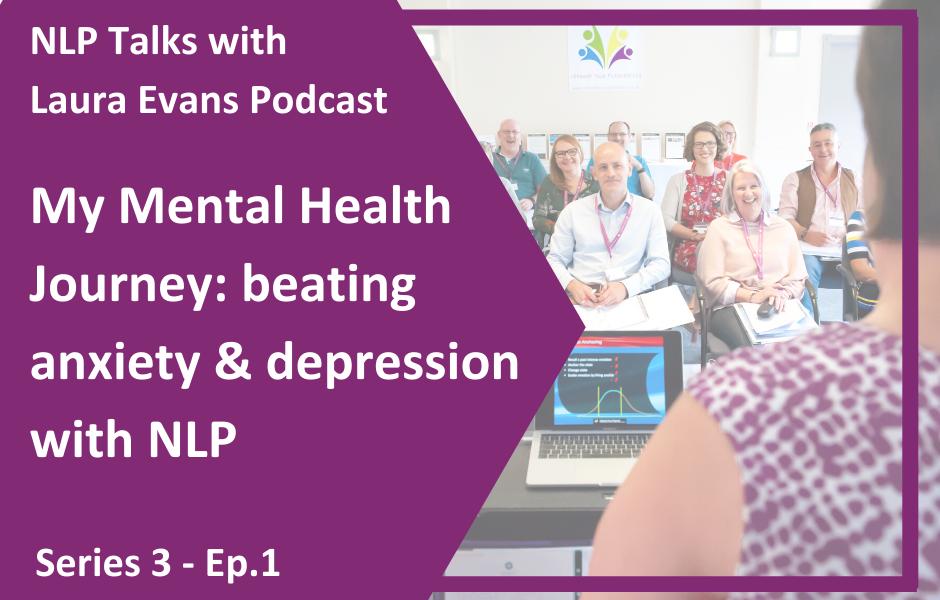 SHOW NOTES 
My Mental Health Journey: beating anxiety & depression with NLP
Welcome to the Mental Health Mini Series. Here is my Mental health Journey with NLP, beating anxiety and depression.
In this episode, I share how my life changed overnight as sheer grit and determination almost broke me.
I hit the 'brick wall' no longer able to cope.
I was left with anxiety and depression, feeling unable to cope.
Luckily I found NLP and it changed my life.
My experience informs who I am today and why I set up my NLP training company Unleash Your Potential – to help people unleash their potential in business & life. I'm sure you're going to love this raw episode where I share my story.
Turbulent childhood
Born in the late 1970's.  Laura Evans had a turbulent childhood with a poorly mother, having to be a young carer.  Bullied at school. She didn't know how to manage her emotions.  Laura didn't have the support that perhaps other children had.  She became resilient as children do,  but she also learned unhelpful behaviours.  She shied away from others in school and kept herself to herself resulting in bullying, all of these things didn't help to give her coping strategies for adult life.
Scared of exams
Feeling that she was rubbish at school, Laura went to agricultural college as she was scared of exams and it seemed an easier route than A levels.  She studied horses and business.  She then headed for university.  She didn't believe she was naturally talented and she started working extremely hard to achieve the results she wanted.  She pushed herself and ended up making herself ill.  Filled with anxiety and panic she often got into a state and was unable to take the edge of the anxiety suffering from cold sweats, clammy hands, and a racing heart.  For Laura It felt like life and death.  Her own high standards had resulted in anxiety attacks and Laura being mentally unwell.
Medical professionals answers to anxiety were medication
The answer to Laura's feelings according to the medical profession was medication (antidepressants) and counseling.  Neither of these really helped, Laura came out of the counseling sessions more traumatised than when she started.  The university sent her home, extended her deadlines and eventually, she went back and achieved her first-class honors degree.  The pressure was gone, and the crisis disappeared for the time being…
Successful HR career
Following university, Laura took a year traveling before embracing a career in HR.  Her hard work and determination shined through and Laura got noticed,  she started on a graduate recruitment program in which she was hugely successful and a full career ensued.
Life was good…
Life was good and she was promoted multiple times although always in the background of her mind was the fear of being found out – Imposter Syndrome was present which is very common in high achievers. Laura was working in a regional role, lots of traveling, an amazing HR team, Laura loved it.  Yet the underlying traits of anxiety were still there and led to what Laura calls her brick wall moment.
Mental health awareness
The pressure at work was building, Laura was being asked to deliver more and more. Following a number of significant emotional events.  Colleagues and family started to notice a change in Laura. She had no idea how ill she was.  She was so fixated on becoming superwoman and doing a good job she once again kept pushing hard until she broke.
Mental Health awareness tells us that we will notice the change in people before they do. That was certainly what was happening for Laura at that time.  Everyone was telling her that they were worried about her.
Then one day Laura was unable to get up for and go to work, her mind had shut down.  She said "I can't do it" this was the start of her hitting the brick wall – her life stopped that day.
This led to six months off work, feeling numb and shutting herself way. Laura was prescribed medication and attending CBT (cognitive therapy behaviour) sessions.  All of these things did not deal with the underlying issue.  She did not want to have to keep revisiting the problem. It felt like no one could help her deal with the underlying problems with her mental health and she was stuck.
She agreed to go back to work but couldn't do it and eventually she was made redundant.
Redundancy led to life-changing NLP
In Wales, when you are made redundant you can apply for a ReAct funding training grant.  Laura knew that she wanted to learn NLP, so she used the funding to book an NLP Practitioner course.
On day two of her NLP Practitioner training, Laura had a lighbulb moment, she had started to learn that it was possible to change how she thought and felt and realised that she could also help others to do this. Then she experienced the TimeLine Therapy™ process and Laura not only began to make changes at the unconscious level, she began to let stuff go.  She had found the solution to her underlying anxiety and issues. She was able to let go of all those past issues. The change was mindblowing. It then cemented her decision. Laura wanted to be able to help others like her, so she booked and started her NLP Trainers training, qualifying a few years later.
Unleash Your Potential with Laura Evans
Completing her NLP Trainer qualifications enabled Laura to create her NLP training business Unleash Your Potential.  Her life experience has shaped who is she today and she truly believes in her students and helping to transform lives is a privilege and why she loves what she does.  NLP has equipped Laura with a huge toolkit to manage her own emotions and state and now shares this with others in her training room, helping everyone to unleash their potential.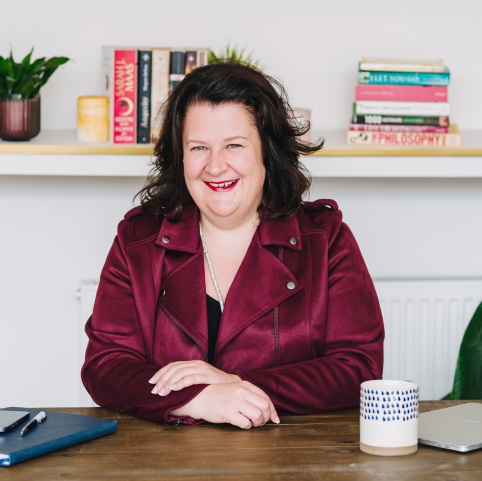 Name: Laura Evans
Job Title: International Trainer of NLP at Unleash Your Potential Ltd
Bio: After 15 years in HR and Training roles in corporate life Laura decided to follow her passion of how the mind works, empowering people & helping them unleash their potential. She started studying NLP in 2008, is a Certified Trainer of NLP (accredited by the ABNLP) and Master Coach. Laura runs NLP, Time Line Therapy™, Hypnosis & NLP Coaching courses from Cardiff and Birmingham (UK) and offers some courses online. A chartered member of the CIPD, Laura is also a qualified ILM Level 7 Executive Coach/Mentor and Member of Institute of Directors. With NLP, Laura was amazed at how quickly and easily she could change things that had held her back for years and saw astonishing results! She brings a sense of fun, energy and passion to her courses – "she is one of the [NLP] industry's rising stars!"
Coaching Specialisms: Coaches, Business Owners, Leaders & Professionals
Web Address: www.unleashyourpotential.org.uk
Email Address: info@unleashyourpotential.org.uk