The 2020 Staff Party at Unleash Your Potential
Series 4  – Bonus 1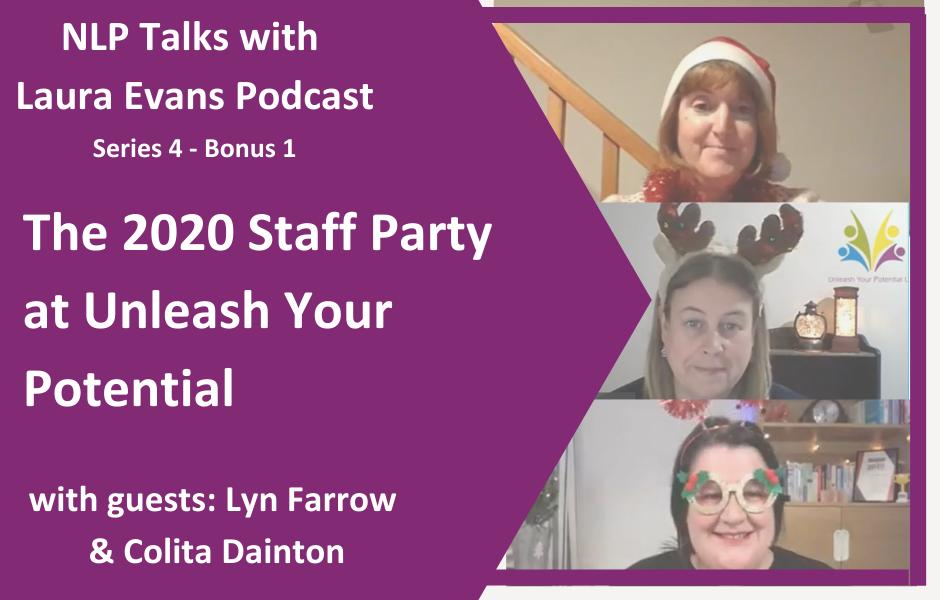 SHOW NOTES 
The 2020 Staff Party at Unleash Your Potential
featuring Operations Manager Lyn Farrow & Marketing Manager Colita Dainton
 I, Laura Evans podcast host and award-winning NLP trainer invite you to join me and my team as we celebrate Christmas and our highlights from 2020 both in our NLP training business and on the NLP Talks Podcast.
Get to meet Lyn Farrow our Operations Manager and Colita Dainton our Marketing Manager as they discuss with me, Laura Evans NLP Trainer, all things Neuro Linguistic Programming.
Pull up a chair, grab a glass of your favourite tipple and join us today!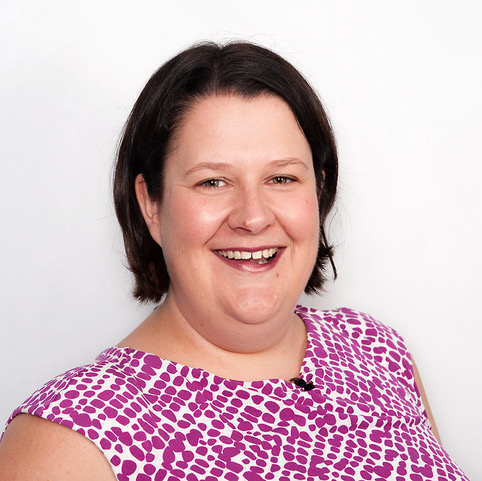 Name: Laura Evans
Job Title: International Trainer of NLP at Unleash Your Potential Ltd
Bio: After 15 years in HR and Training roles in corporate life Laura decided to follow her passion of how the mind works, empowering people & helping them unleash their potential. She started studying NLP in 2008, is a Certified Trainer of NLP (accredited by the ABNLP) and Master Coach. Laura runs NLP, Time Line Therapy™, Hypnosis & NLP Coaching courses from Cardiff (UK) and offers some courses online. A chartered member of the CIPD, Laura is also a qualified ILM Level 7 Executive Coach/Mentor and Member of Institute of Directors. With NLP, Laura was amazed at how quickly and easily she could change things that had held her back for years and saw astonishing results! She brings a sense of fun, energy and passion to her courses – "she is one of the [NLP] industry's rising stars!"
Coaching Specialisms: Coaches, Business Owners, Leaders & Professionals
Web Address: www.unleashyourpotential.org.uk
Email Address: info@unleashyourpotential.org.uk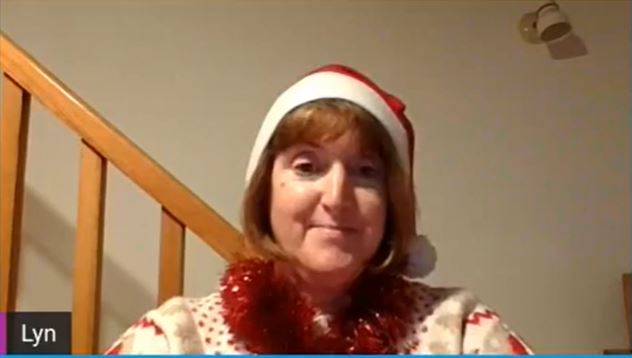 Name:
Lyn Farrow
Job Title:
Operations Manager
Bio: Lyn is the customer champion and the glue behind the scenes in the Unleash Your Potential office.  Lyn keeps us all in order. Assisting the students from the very first enquiry, helping them to choose the right training journey, right through to the Facebook community long after training has ended.  If you book a training course with us, you will get to speak with Lyn and she will support you, send you the training materials and help keep you on track.  Lyn is married with two children and Barney the dog!

Specialisms: The team goal scorer, the level headed one. The guru of all bookings, processes and customer care.
Web Address: www.unleashyourpotential.org.uk
Email Address: info@unleashyourpotential.org.uk
Name: Colita Dainton 
Job Title: Marketing Manager
Bio: Colita is the face behind the scenes of all our marketing and social media.  Keeping our community updated and involved with our journey.  She manages the podcast promotions and websites and social media platforms that include Facebook, LinkedIn, Twitter, Instagram and youtube.  She is married with three children and Koda the dog! 

Specialisms: Social media posting, lining up and kicking the balls to Lyn and making sure all the team and community smile regularly.
Web Address: www.unleashyourpotential.org.uk
Email Address: info@unleashyourpotential.org.uk