Breakthrough to Success: NLP mindset hacks from the coach to 6/7 figure Entrepreneurs
– with Hamza Ahmed
Series 5  – Episode 5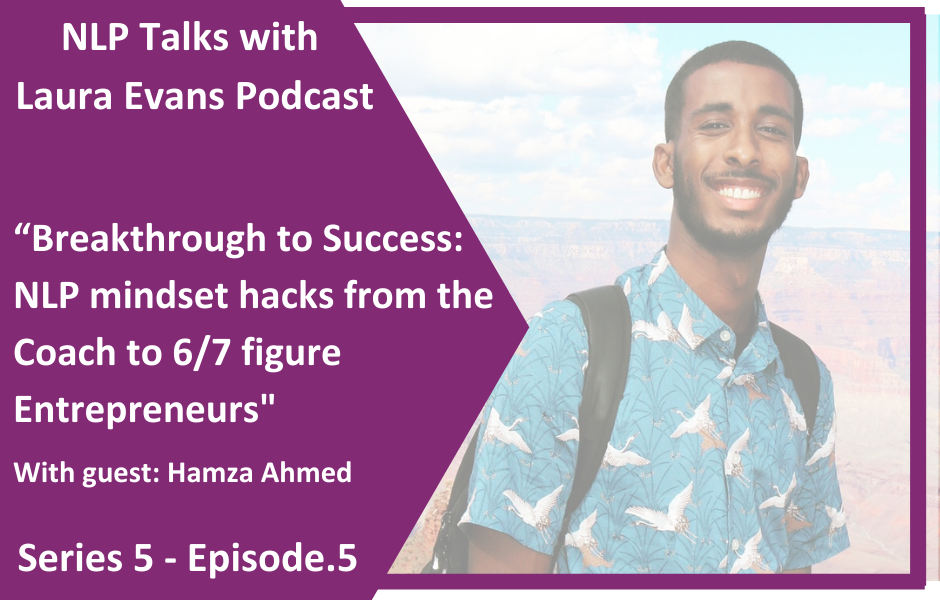 SHOW NOTES 
Breakthrough to Success: NLP mindset hacks from the Coach to 6/7 figure Entrepreneurs
– with Hamza Ahmed
Interested to hear about how intensive NLP Breakthrough coaching helped an entrepreneur double her monthly income?
If NLP could transform someone's business success would you be interested?
What if better connection and communication at work could bring higher productivity and business results? 
At 19 Hamza felt the fear and did it anyway by taking himself to New York to realise a dream.
A later trip to Nashville helped him work out what was stopping him from being a millionaire – Mindset!
Tony Robbins introduced him to NLP and this was the moment everything changed for Hamza.
He now delivers NLP Breakthrough coaching for his 6/7 figure clients – one of whom doubled her monthly income as a result!
He discusses his realisation that his past was impacting his present.
His attitude now is to 'fail fast and keep running!'
He even discussed how as an Agile expert he's used NLP to improve communication and build connections within an IT team!
ALL of this and he's 25!! WOW!!! What an inspiration!! ….. AND he only completed his NLP Masters training 8 months ago!!!
This is a fast paced episode with plenty of little gems throughout.
If you want more success in your life, listen in today!
Landing in New York
As a child Hamza always wanted to visit New York, in fact he set a goal to go to New York to work. Despite family objections, he was determined.
Whilst in university at 19 he achieved his goal.  With lots of hard work and an agency that supported him by arranging a work placement for him, he achieved his dream.  His dream was to visit Times Square, he visualized listening to Alicia Keys and her song New York (Empire State of mind) song many times in his mind and on his very first day in New York his visualisation became real.  He had been courageous and focused on what he wanted and got it!
He continually carried an attitude of being courageous and just going for it.  He believes that where focus goes, energy flows and having the mindset of I'll find a way enabled him to get to New York and start his life journey.
Choosing to learn NLP
Hamza shares that he launched a number of businesses and had various levels of success, he looked at others who seemed successful and determined that the reason for his lack of success was based on himself.
He attended a large event in Nashville filled with successful millionaires and he got to ask a millionaire what was holding back his success and he replied "the conversation between your two ears, you need to learn to control it" this made him think. He got the chance to meet and question other millionaires, taking on their wisdom. The last day of the event featured Tony Robbins who spoke of NLP and he decided that he needed to learn more, he discovered Unleash Your Potential and Laura Evans and hasn't looked back completing his NLP Practitioner qualification then his Certified Coach and lastly NLP Master Practitioner qualifications.
Chasing Perfection
Hamza has been exploring how his past led to his future, and he discovered that he was chasing perfection to achieve his father's love. This insight led to changing his mindset.
When he realised that perfection doesn't exist and it is ok to fail, things started to change.  He says fail, and fail fast and then move on. He admits he is perfectly, imperfect and that's ok.
Multiple failed businesses to an amazing coaching business in 7 months
His business success has turned around since learning NLP.
Changing his mindset, has created a dominoe effect. He has made massive changes in his business success, his relationships and life in general and he is only 25 years old! Plus he is a Master Practitioner of Neuro Linguistic Programming.
Breakthrough Coaching
Hamza is working with entrepreneurs and business owners using breakthrough coaching.  One client has doubled their monthly income since their breakthrough session with Hamza.
He has helped a client heal with sexual abuse as a child and releasing that enabled her to transform her life and smash her business results and personal esteem.  Proving that,  releasing the past, enables you to move forward in the future.
NLP is content free
Using NLP is mostly content-free, which means that you don't need to share all the details of issues you may be carrying.  You just need to know the outcome you want to achieve.  Hamza and his clients have proved how NLP can be content-free and change lives fast. He uses mindset hacks to get fast results.
Not just breakthroughs……Career Coaching and more…
Hamza has helped others getting a promotion, by using the NLP techniques, helping them to change thought processes and achieving their dream promotion.
£30k Coaching Contract being agile
Hamza is a Certified Agile Trainer (based in Information Technology), he was given a task,  a team of 14 people, including developers, analysts, testers, product testers and they needed to be efficient and productive and successfully talking to stakeholders and users. Hamza discovered they all lacked communication skills and this was causing issues.  He worked on improving their communication skills, helped them build rapport, taught them mindset hacks and encouraged them to become connected.
As a result of his NLP training Hamza taught his team how to communicate, creating behavioural change, and therefore increasing their results and better relationships and this all enabled him to receive a £30k coaching contract to help keep the successful results happening.
Stuck? Frustrated? Wondering what to do with your life?
Hamza's mindset hack
Run – When you are running, you just do it. You have to focus on running and where you are going, you don't concern yourself with trees in the way. When it comes to life your mind will throw up questions, it will question what you are doing, why you are doing it, and perhaps highlight previous failures.  Just keep running, focus on the future, where you are going and ignore the negativity, be present. Stop concerning yourself with the past.  Be present and be you.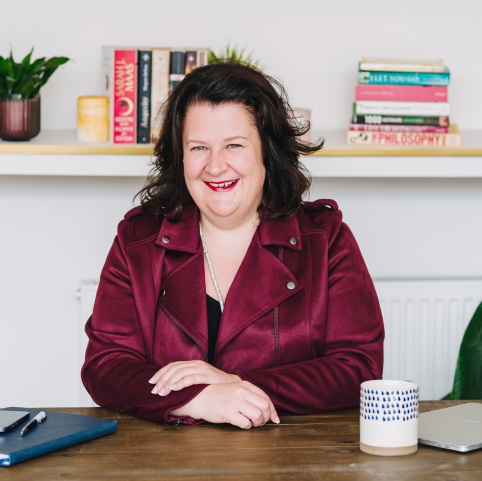 Name: Laura Evans
Job Title: International Trainer of NLP at Unleash Your Potential Ltd
Bio: After 15 years in HR and Training roles in corporate life Laura decided to follow her passion of how the mind works, empowering people & helping them unleash their potential. She started studying NLP in 2008, is a Certified Trainer of NLP (accredited by the ABNLP) and Master Coach. Laura runs NLP, Time Line Therapy™, Hypnosis & NLP Coaching courses from Cardiff and Birmingham (UK) and offers some courses online. A chartered member of the CIPD, Laura is also a qualified ILM Level 7 Executive Coach/Mentor and Member of Institute of Directors. With NLP, Laura was amazed at how quickly and easily she could change things that had held her back for years and saw astonishing results! She brings a sense of fun, energy and passion to her courses – "she is one of the [NLP] industry's rising stars!"
Coaching Specialisms: Coaches, Business Owners, Leaders & Professionals
Web Address: www.unleashyourpotential.org.uk
Email Address: info@unleashyourpotential.org.uk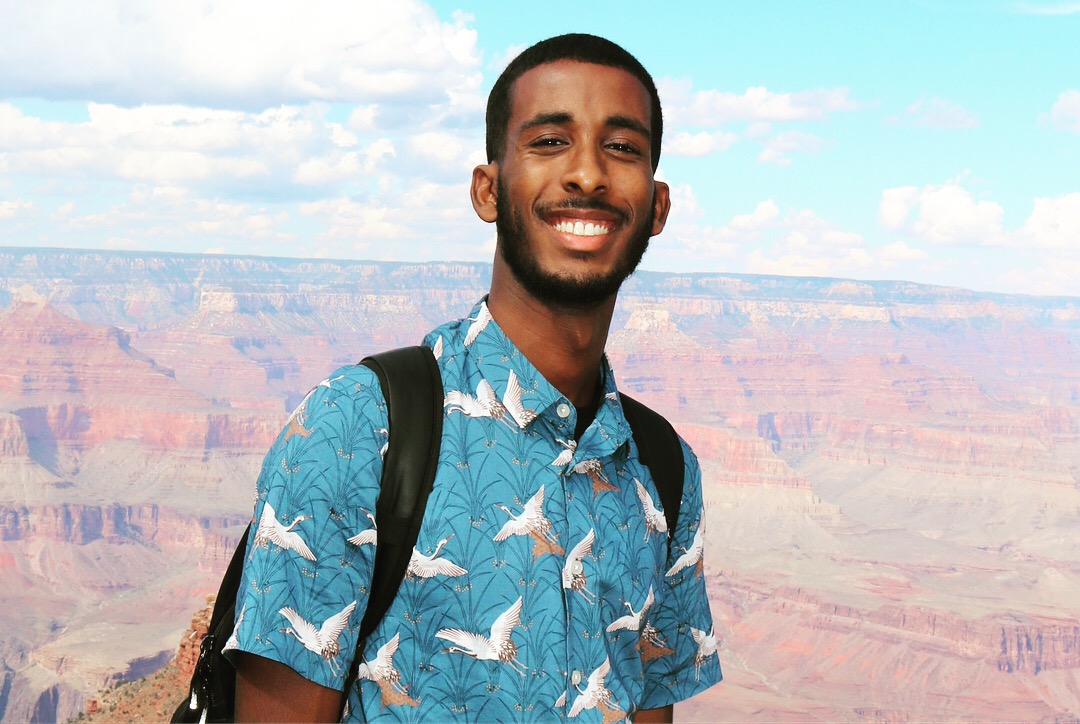 Name:
Hamza Ahmed
Job Title:
Entrepreneur
Bio: Over the last 6 years, Hamza Ahmed was set on a mission to uncover the secrets of success and help others do the same, not only in business but in life too.  He took his clients on a journey of breakthrough transformation, healing and freeing themselves of past hurt, trauma and limiting beliefs.  He saved relationships, skyrocketed businesses and propelled individuals' careers, and set hundreds of souls free ot worry, fear and self doubt.  At the age of 19, he flew to New York City and was an assistant CEO in a small business. Giving him the golden experience of successfully running an international business. He is currently providing world class coaching services to 7 figure and 6 figure entrepreneurs, CEO, Business Oners, Directors and managers.  He further opens his services to anyone who desires to have an unstoppable mindset and a life full of abundance.
Coaching Specialisms: Transformational Coach
Email Address: support@coachaych.com