Living authentically: the true meaning and how NLP can help
– with Michael Cameron
Series 5  – Episode 5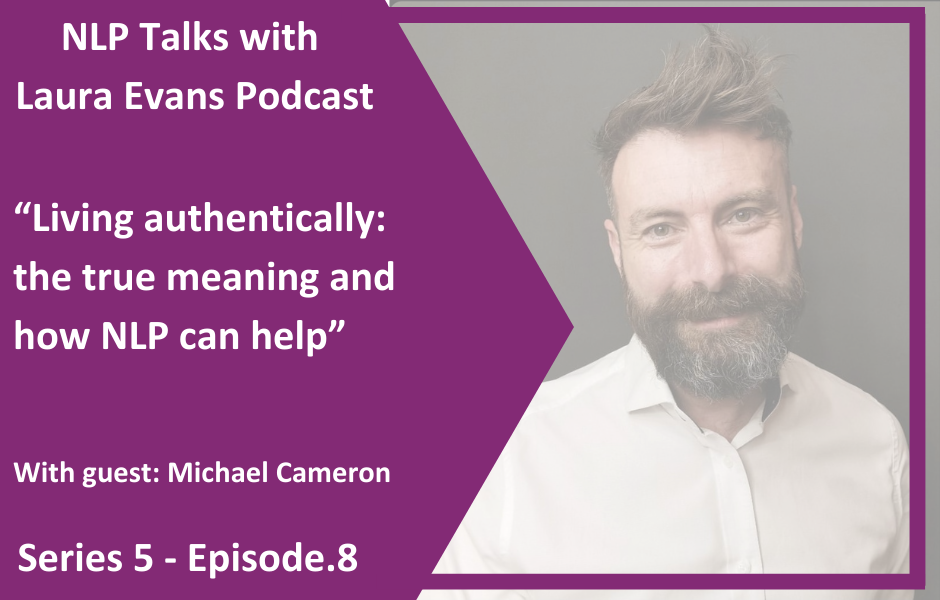 SHOW NOTES 
Living authentically: the true meaning and how NLP can help
– with Michael Cameron
What if you grew up believing you would be killed for expressing who you really are? What if you were shunned by your friends and family, lost your job and became homeless because of it?
Are you interested in a truly inspirational story of bravery, courage and a pursuit to stop being inauthentic and to live authentically?
…. Full of self-doubt, shame and self hatred, at 17 Michael Cameron decided life had to change.
He has been led to believe that even having 'impure' thoughts about being gay (let alone acting on them) would mean God would kill him. He told them he accepted that fate because not to leave would have been a life unlived.
He set off into a world he barely knew or understood, vulnerable and making mistakes.
He re-trained as a nurse and then a best friend told him about NLP and the NLP Courses with Laura Evans – he listened to THIS VERY podcast show and decided to take action!
Over the last 9 months, Michael has trained in Neuro Linguistic Programming (NLP), becoming a Master NLP Coach and truly transformed his own life!
He's on a mission to help people like himself discover the meaning of living authentically – 'coming out' is only the beginning of that journey (as you will hear in this episode).
Listen in today for a truly powerful and inspiring story (it'll take your breath away, seriously!).
How life started
Michael grew up in a strict religious family, some may say a cult.  He was told that if he didn't think pure thoughts, God would kill him.  He was told that even his friends who didn't follow his religion would be killed.  This meant for a young Michael growing up the world was a scary place.
Michael felt he had no safe space to relax and be his true self, he learned how to ignore his thoughts and feelings, burying them deep within in himself.  Yet deep down, he knew things didn't feel right and things needed to change in his life.
Breaking point
By the time that Michael reached his seventeenth year, it all felt too much and he knew that his feelings and thoughts meant he had to come out (admit he was gay) and he had to do something before his entire world caved in. He realised that enough was enough, he admitted to his elders that he was indeed gay.  This was a hugely traumatic time for Michael.
The admittance of his sexuality led to him having to go through gay conversion therapy as directed by the church elders.  The people he had known all his life began to turn their backs on him and eventually he was shunned by his parents, family, church, his workplace and friendship circles. This left him homeless with no support,  his self-survival kicked in and he felt this was the right path.
He choose to walk away from everything that he knew but also knew that he had to do it for his own sanity and to live authentically.
Lessons learned
Michael is the first to admit that he was very naive when he left, he didn't know what the world was like and it made for some very difficult years, he just knew deep down that something had to change and he set about deciding what he wanted in his life, his vision included a career, a house, a life led on his terms.
Despite wanting to live life authentically, he still felt as if he was people-pleasing, not being true to himself and that the patterns from his upbringing were ingrained deeply within him and his unconscious mind.
Michael carried shame with him, his career path saw him train as a nurse. A conversation with a patient who was a lesbian sparked questions within him. During their conversation he realised that he felt that way, she did, filled with shame and despair, he wanted to know how to get rid of those feelings, remove the life long beliefs he carried and start living properly…..start living authentically.
Counselling didn't help
When he realised that he carried this shame and that he needed to change his thought patterns, he went to a counsellor in the hope of finding answers and found that all it did was open old wounds and not offer actual solutions to help him deal with these thoughts and move forward.  Repeating this process week after week, was only painful and unhelpful,  he abandoned the sessions and made the decision to just live authentically and take the lessons as they appeared.
His savior came along in his friend Yas, who had been on an NLP course…Laura's NLP course.
NLP Talks Podcast the saviour 
Michaels friend had completed Laura's NLP course and encouraged him to start listening to the NLP Talks Podcast.  Although he didn't understand all of the things he heard,  he knew that NLP had created huge life changes in his friend and he was curious as to whether it could help him too. Michael went on to book his NLP Practitioner course place and the rest is history. His journey to living authentically had truly begun.
Stand out moments on the NLP Practitioner Course
Michael shares that his stand out moment on the NLP Practitioner course for him was Time Line Therapy™ (Learn more about Time Line Therapy™ here),  He recalled driving home after his Time Line Therapy™ session and just laughing…in contrast to the counseling sessions he felt liberated and happy.
Time Line Therapy™ lifts the weight off your shoulders, it deals with the top five negative emotions that hold you back in your life and allows you to let go of the emotions easily and effortlessly, taking positive lessons and allowing you to move forward in your life (and it is content-free – so you don't have to relive old wounds of the past).
Michael has since gone on to help others with Time Line Therapy™ and feels that this is a real privilege and a special experience to help others let go of their emotional baggage and see the sparkle come back into their eyes.
Getting to know himself…starting again
The NLP Masters course allowed Michael to understand who he was and helped him to design how he wanted his life to be.  He refers to it as mental sludge, that he was able to clean it out with the breakthrough process, that happens on the Masters course.
Now he looks for the lessons in his life and asks himself what do I need to learn from this?  Which helps him to re-evaluate things everyday in his life.
No need to be stuck…Living authentically
The world is brighter with rainbows, and Michael shares how we can all live alongside each other.  There is no need to be stuck and if you are, perhaps NLP could be your chance to move forward, become unstuck and start living your true self.
Coaching Future
Michael has completed his NLP Practitioner qualification, his NLP Coaching Qualification and his NLP Masters qualifications, allowing him to start his coaching business.
Michael is growing his brand new coaching business and is still learning about his life.  He is looking to work with people who are gay, who had difficult upbringings and don't seem to be satisfied internally with their lives.   Michael wants to help others and use his skills to help them become unstuck and move forward in their lives.
The NLP tool kit has allowed him to help himself and offer the opportunity that life can be so much better
Michaels Reminder 
"The things that make us different, are the things that make us beautiful!"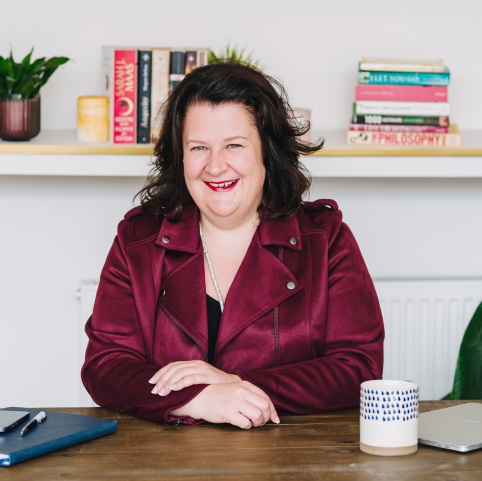 Name: Laura Evans
Job Title: International Trainer of NLP at Unleash Your Potential Ltd
Bio: After 15 years in HR and Training roles in corporate life Laura decided to follow her passion of how the mind works, empowering people & helping them unleash their potential. She started studying NLP in 2008, is a Certified Trainer of NLP (accredited by the ABNLP) and Master Coach. Laura runs NLP, Time Line Therapy™, Hypnosis & NLP Coaching courses from Cardiff and Birmingham (UK) and offers some courses online. A chartered member of the CIPD, Laura is also a qualified ILM Level 7 Executive Coach/Mentor and Member of Institute of Directors. With NLP, Laura was amazed at how quickly and easily she could change things that had held her back for years and saw astonishing results! She brings a sense of fun, energy and passion to her courses – "she is one of the [NLP] industry's rising stars!"
Coaching Specialisms: Coaches, Business Owners, Leaders & Professionals
Web Address: www.unleashyourpotential.org.uk
Email Address: info@unleashyourpotential.org.uk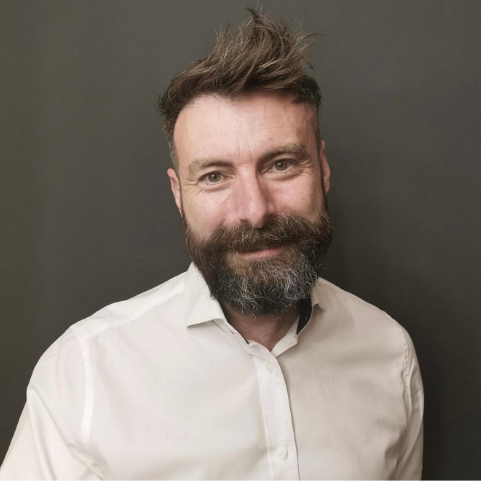 Name: Michael Cameron
Job Title: Master Coach 
Bio: Brought up in what many consider a cult, Michael was taught from birth that the outside world was a scary, evil place, and that if he disobeyed God he would be killed at Armageddon. Realising that he was gay he decided at the age of 17 to come out. Suddenly he found himself without a family, friends, home or employment. Instead of feeling free, he lived a life shaped by guilt, anger and sadness. That is until he discovered NLP and was able to start living as his authentic self. His mission is now helping others take that same journey.
Coaching Specialisms: Helping members of the LGBTQIA+ community to live authentically
Email Address: hello@michaelcameroncoaching.co.uk
Web Address: www.MichaelCameronCoaching.co.uk